Rhubarb Strawberry Jam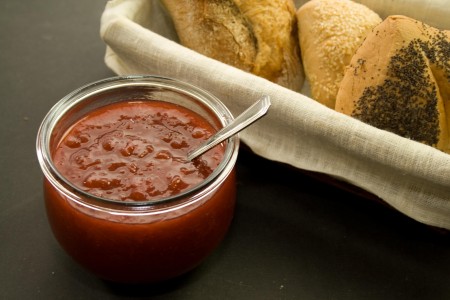 For me puttygen download ,  spring has finally arrived when you see the first strawberries and stems of rhubarb available at the market. This jam combines the sweetness of strawberries with the tartness of rhubarb. Put these heralds of spring into jam jars and savour all year.
——————————
Strawberry Rhubarb Jam
Ingredients:
1 1/2 pounds (700 g) rhubarb
1 1/2 pounds (700 g) strawberries
3 pounds (1.400 g) gelling or jam sugar*
juice of 1 lemon
2 vanilla beans mega pizza , slit open
Preparation:
1.
Wipe and trim the rhubarb stems, cut them into 1 inch (2,5 cm) pieces.  Put rhubarb into a big bowl, add the gelling sugar, mix thoroughly and let stand for at least 4 hours.
2.
If not using organic strawberries, wash the strawberries. Trim of the green stems. Cut into 1/3 inch (1cm) big pieces.
3.
Put the rhubarb into a stainless steel saucepan together with the lemon juice and the vanilla beans. Slowly bring to a boil putty download windows , stirring frequently. Add the strawberries
, cook for five more minutes.
4.
Test for setting by putting a spoonful of jam onto a cold plate or saucer. When cooled down, the  jam should hold its shape; if not, cook for two more minutes and so on until setting test is satisfactory.
5.
Remove the vanilla beans. Put the jam into sterilized jam jars, cover tightly with lids.
* Gelling or jam sugar is sugar to which pectin has been added for better gelling.