Swabian Redcurrant Tarte (Träubleskuchen)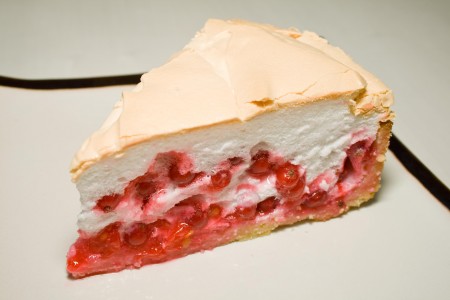 Despite our fairly cold and wet summer in Germany this year, all the summer fruits are coming in at the same time now. With strawberries still being around pizza kurier bern , raspberries, blackberries, blueberries, gooseberries as well as red- and blackcurrants are showing up.
A Träubleskuchen (from the Swabian word Träuble for red- and blackcurrants) is shortcrust pastry tarte filled with redcurrants immersed in a lot of meringue.  This tarte is usually baked in a springform pan (a pan form the edge of which is at right angles to the bottom and can be removed by snapping it open) since putty , as you can see above, the tarte is meant to be quite high. If you only have a regular (low) tarte or pie form available, reduce the filling by half.
_______________________________________________________
Swabian Redcurrant Tarte (Träubleskuchen)
Ingredients (for a 10 inch / 26 cm springform pan):
For the shortcrust pastry dough:
1 3/4 cups / 7.5 oz / 220 g all purpose flour
1/2 cup / 3 oz / 85 g fine sugar
3 tablespoons ground hazelnuts (if you don't like them or are allergic
, exchange them for the same amount of flour)
a pinch of salt
1 stick / 4.5 oz / 125 g unsalted butter, fridge cold, cut into small cubes
1 egg, cold
dried beans for blind-baking
For the filling:
4-5 tablespoons bread crumbs
1 1/2 pounds / 700 g redcurrants
egg whites from 5 eggs
2/3 cup / 4 oz / 100 g fine sugar
Preparation:
1.
Combine the dough ingredients either in a kitchen machine or by hand. If using a kitchen machine, pulse the flour, ground hazelnuts (if used), sugar and salt until well mixed and then add the butter cubes until the ingredients are combined into coarse crumbs; add as much egg as it takes to just hold the dough together. If doing it by hand, mix the flour, sugar, salt and ground hazelnuts in a bowl and rub the butter cubes into the mixture until all butter is immersed and coarse crumbs form; also add as much egg as it takes to just hold the dough together.
2.
Quickly form the dough into a ball and flatten it into a disc, wrap it in cling film or aluminium foil and refrigerate until dough is firm, at least 30 minutes.
3.
Preheat oven to 360° F / 180° C (conventional oven).
4.
Roll out dough on a lightly floured surface or - if you have the same difficulties that I have with that task – between two sheets of clingfilm or baking parchment. Always only roll away from and towards you, then turn dough by 90° and repeat. Repeat until it reaches a dimension that covers the bottom of the springform pan plus minimum 2.5 inches / 6 cm on the edges of the form. Remove all excess flour from the dough with a brush. Carefully lift the dough and place it into the springform pan, press dough against the bottom and edges. Cut rough edges with a pizza slider or a pastry cutter.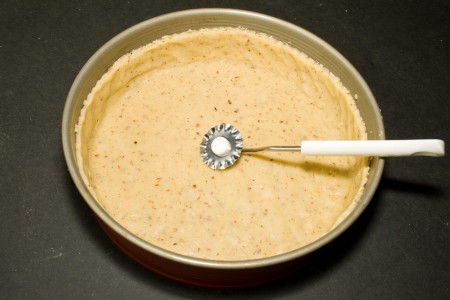 Pierce the dough with a fork all over to allow steam to escape.
5.
Let the dough chill in the fridge for another 10 minutes. Then puttygen , closely cover the dough with baking parchment, fill in dried beans up to the edge of the dough and blind-bake it at 360°F / 180°C (conventional oven) for 15 minutes. Let cool for 10 minutes.
6.
Meanwhile, beat the egg whites with an electric mixer until they form stiff peaks. Add the sugar and beat for further 4-5 minutes. Lastly, add the corn starch and mix in for another minute. Set aside ¼ of the egg white to use on top of the tarte. Carefully fold in the redcurrants under the remaining ¾ of the egg white.
Sprinkle the breadcrumbs over the dough. Spread the redcurrant/egg white mixture over the dough with a spatula or spoon, top with the remaining egg white.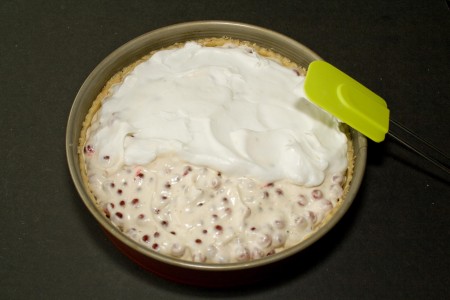 7.
Bake at 360° F / 180° C (conventional oven) for about 45-50 minutes. After approximately half the time, cover the pie with aluminium foil or baking parchment to prevent the meringue on top getting too dark. Cool on a rack.