Matjes Fillets Home-Style (Matjes Hausfrauen Art)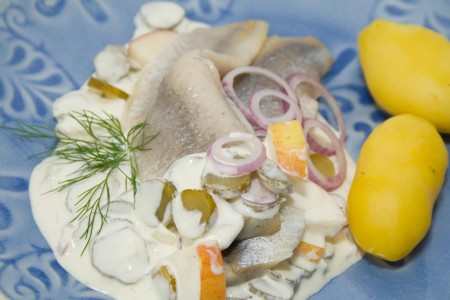 After a lot of sweet things, here is a savoury dish again: Matjes fillets in a sour cream/yoghurt  dressing.
You do not know what Matjes are? Matjes are salty herrings which are very tender since they had been caught before reaching pubescence (doesn't that sound kind of mean?). They are pickled in a brine for some days. Matjes are especially popular in the Netherlands
, where they are called Nieuwe Haring or Hollandse Nieuwe, and the coastal-near regions of Northern Germany, but they are enjoyed all over Germany.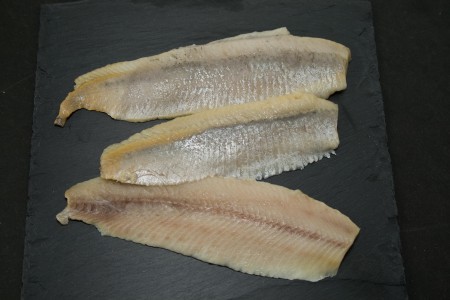 _______________________________
Matjes Fillets Home-Style (Matjes Hausfrauen Art)
Ingredients (for 4 persons):
8 Matjes Fillets
1 cup / 7 oz / 200 g sour cream
1 cup / 7 oz / 200 g yoghurt (no non-fat)
1 cup / 7 oz / 200 g mayonnaise
3 tablespoons mustard
3 medium onions (red, white or yellow)
2 apples, rather sour than sweet
1/2 pound / 7 oz / 200 g pickled gherkins, preferrably small cornichons
1 tablespoon lemon juice
1 tablespoon sugar
salt, pepper
dill for garnishing
Preparation:
1.
In a bowl https://mega-pizzeria.com , mix together the sour cream, yoghurt, mayonnaise, mustard, lemon juice and sugar.
2.
Cut each appel into 8 cuts, remove the core and cut them into thin slices; leave the skin on, most vitamines are located there and it gives the dressing some colour, too. If you have small gherkins, simply slice them; if they are bigger, first cut them into halves or quarters lengthwise, then also slice them. Slice half of an onion into onion rings for garnishing; dice the remaining onions into small cubes.
Mix the apple slices https://puttygen.in , gherkin slices and onion cubes under the sour cream dressing. Salt and pepper to your liking. Refrigerate for at least an hour.
3.
Pat the fillets dry with kitchen towel. Arrange two fillets on each of the plates beside or on the sour cream dressing. Garnish with onion rings and some dill leaves.
Usually served with boiled potatoes. putty