Apricot Almond Cake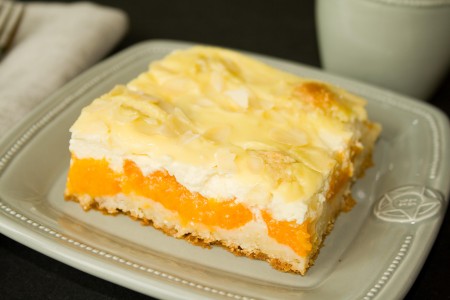 Apricots are finally starting to show up at the market. Thus, it's time to start with yeast cakes topped with fruit! This kind of cake (either with an additional cream or streusel topping or not) are very popular in Germany and you can find these at nearly every bakery.
In most cases, a very simple sweet yeast dough is used for this kind of cake. Though, in order to complement the taste of the apricots, I exchanged part of the flour with ground almonds for this cake.
Chances are good that this is a yeast cake the preparation of which slightly differs from your normal yeast baking. There is no first rising of the dough in a bowl or so after which the dough has to be knocked down and kneaded or rolled in shape. Instead of this pizza kurier bern , the dough is so wet (and sticky) that it can be poured onto the tray on which it then rises before the fruit is added.
 __________________________________________
Apricot Almond Cake
Ingredients:
For the dough
1.5 oz / 42 g fresh yeast or 1 sachet dried yeast
1 1/2 cups /12 fl oz / 0.35 l milk puttygen download , lukewarm
1/3 cup / 2.5 oz / 75 g fine sugar
2 cups / 10.5 oz / 300 g all purpose flour
2 cups / 7 oz / 200 g ground almond
a pinch of salt
1/2 stick / 2 oz / 60 g unsalted butter at room temperature
1 egg
For the topping
3 pounds / 1.2 kg apricots, halved and pitted
2 cups / 17.5 oz / 500 g crème fraîche
2 eggs
1/4 cup/ 2 oz / 60 g fine sugar
sliced almonds for sprinkling
Preparation:
1.
Preheat oven to 360° F (180° C).
2.
If using fresh yeast, pour the milk in a bowl and dissolve the yeast in it. Beat in the sugar.  Let rest in a warm environment for about 15 minutes until it begins to foam.
In another bowl, mix the flour, ground almonds and salt. Add the yeast mixture or dried yeast and milk, the butter and the egg. Stir the dough for about 3 minutes in the kitchen machine (K hook) or 7 minutes by hand with a spoon or a beater. The dough will be looking rather like solid porridge than your normal yeast dough puttygen , ie still sticky, but that is how it is supposed to be.
3.
Either grease a baking tray or line it with baking parchment. Without any further resting
, pour the dough into that tray and level it with a spatula or a spoon. Let the dough rise in a warm environment for 45-60 minutes until the height has considerablyincreased. Do not try to cover the dough with a towel or so since it is too sticky for that.
4
Place the apricot halves on top of the dough, it does not really matter if cut side down or up.
5.
Mix together crème fraîche, eggs and sugar thoroughly until very smooth. Pour the topping over the apricots.
Sprinkle with sliced almonds.
6.
Bake at 360° F / 180° C (conventional oven) for about 45-50 minutes until topping begins to turn golden brown. Cool on a rack.
2 Responses to Apricot Almond Cake