Braided Yeast Loaf (Hefezopf)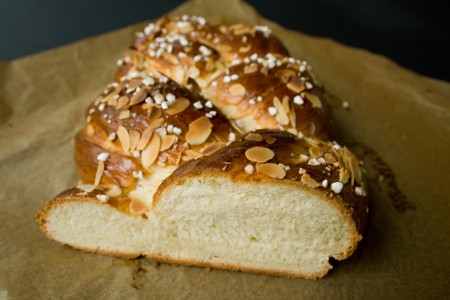 The Braided Yeast Loaf or Hefezopf is a very popular thing here around where I live. You can have it plain for coffee or tea in the afternoon or with butter and jam for breakfast. You can also add (rum-soaked) raisins to the dough if you like.
 ________________________________________________
Braided Yeast Loaf (Hefezopf)
Ingredients:
1.5 oz / 42 g fresh yeast or 1 sachet dried yeast
18 fl oz / 0.5 l milk puttygen
, lukewarm
1/3 cup / 2.5 oz / 75 g fine sugar
3 ¼ cups / 17.5 oz / 500 g all purpose flour
a pinch of salt
zest from 1 lemon
3/4 stick / 3 oz / 80 g unsalted butter at room temperature
2 eggs
coarse sugar and sliced almonds for sprinkling
Preparation:
1. 
If using fresh yeast, pour the milk in a bowl and dissolve the yeast in it. Beat in the sugar.  Let rest in a warm environment for about 10 minutes until a slight foam begins to develop.
In another bowl mega pizza , mix the flour, salt and lemon zest. Add the yeast mixture or dried yeast, the butter and one egg. Knead until smooth and elastic, for about 5 minutes in the kitchen machine or 10 minutes by hand. Cover with a damp clean towel and let rise for one hour or until the dough has doubled in size.
2.
Punch down the dough and turn onto a floured table or board. Divide dough into thirds and roll into long rolls about 15-20 inches / 40-50 cm long. Braid the three rolls (you can reach the most even results by braiding beginning from the middle: braid one end in the usual way from outside to the inside and the other end in reverse mode from the inside to the outside).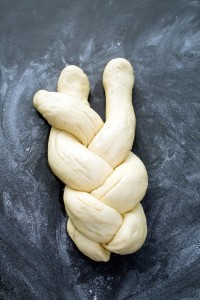 Fold both ends slightly under the loaf.  Cover with a towel and let rise for approximately one hour.
3. 
Preheat oven to 425° F / 220° C (conventional oven).
4.
Beat the remaining egg and brush over the loaf. Sprinkle with coarse sugar and sliced almonds.
5.
Bake at 425° F / 220° C for about 10 minutes. Then turn oven down to 350° F / 180° C. Bake for another 25 minutes (thus puttygen download , overall, for 35 minutes). Cool on a rack.
One Response to Braided Yeast Loaf (Hefezopf)