Filled Beef Rolls (Rinderrouladen)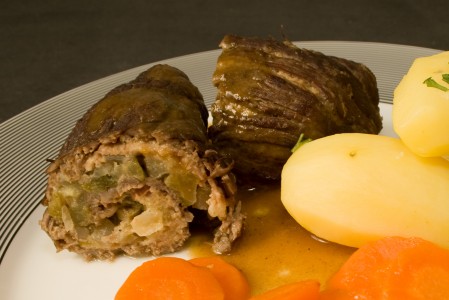 Filled beef rolls or Rinderrouladen, as they are called in German, were one of my favourite dishes during my childhood – at least until that vegetarian period in my late teens… There are dozens of variations for these and every German family has its own recipe. A word on the bacon: In Germany, for that recipe we traditionally use bacon that has a large portion of the white bacon fat on it or just the smoked white part only that can be bought here everywhere. Used as part of the filling, it makes the meat soft and moist.
 ________________________________
Filled Beef Rolls (Rinderrouladen)
Ingredients (for 4 people):
4 thin slices of beef, preferably from the leg, should not be smaller than 4×10 inches (10×25 cm) and should not weigh less than 6-7 ounces (175-200 g)
3 medium-sized onions (white or yellow), diced
6-8 medium-sized pickled gherkins, diced
12 slices smoked bacon rashers or breakfast bacon
4 tablespoons mustard medium sharp (or sharper if desired)
salt, pepper
4 tablespoons of rapeseed or sunflower oil
For the sauce:
2 carrots, diced
½ celery root, diced
1 medium-sized onion (white or yellow), diced
2 cups / ½ l / 1 pint / 18 fl oz beef or vegetable broth
2 tablespoons corn starch
Preparation:
 1.
Preheat oven to 200°C/390°F.
2.
Pat the meat dry with paper towel and slice off any fat or sinews from the edges. Salt and pepper from both sides. Pour 1 tbsp mustard on each slice and distribute evenly with the back of the spoon. Put three slices of rashers/bacon side by side onto the meat; add diced onions and gherkins onto the bottom half of each meat. Don not worry if you have to much filling, this goes into the sauce and makes it extra-tasty! Roll up the meat from the bottom. Fix the rolls with either 2-3 toothpicks or kitchen yarn.
3.
Heat the oil in a Dutch oven or a deep saucepan. Sauté the rolls from all sides until the meat has browned. Add the diced carrots putty putty download windows
, celery and onion as well as excess filling to the pan, sauté for five more minutes. Add the beef/vegetable broth.
4.
Transfer pan to the oven, cover with close-fitting lid and roast in the oven for  1 ½- 2 hours thereby turning rolls from time to time.
5.
Take out the rolls, remove the toothpicks or yarn and keep the meat warm. Meanwhile, strain the sauce through a sieve; try to grind some of the soft vegetables through the sieve, too, to thicken it. Mix corn starch with some tablespoons of water until smooth. Heat the sauce on the stove until boiling. Add tablespoons full of starch to the boiling sauce until your desired thickness. Serve together with the rolls.
Serving suggestion: Serve with boiled potatoes and honey- or maple glazed carrots.
One Response to Filled Beef Rolls (Rinderrouladen)